Incredible Read/Write Speeds
The Samsung 750 EVO 500GB boasts fast random read/write performance, so you can boost computing productivity.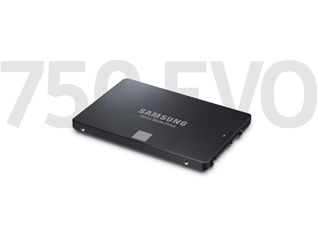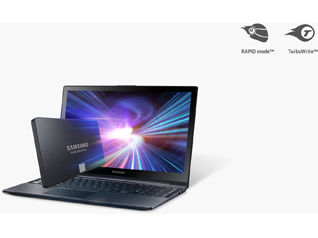 TurboWrite Technology and RAPID mode
TurboWrite technology dramatically boosts the sequential read/write (R/W) speeds up to 540/520 MB/s. RAPID mode provides the option to heighten performance on demand by using free PC memory (DRAM) as a cache, enabling ultrafast multitasking for improved operational efficiency and productivity.
Guaranteed Endurance and Reliability
With no moving parts, the NAND flash-based 750 EVO is durable and lightweight, making it the ideal choice for working on the go. It is also shock and vibration resistant for worry-free operation. With a 3-year warranty up to 100 TBW (Terabytes Written) and 1.5 million hours Mean Time Between Failures (MTBF), your investment is secured.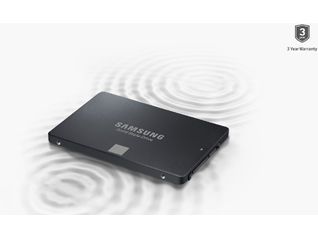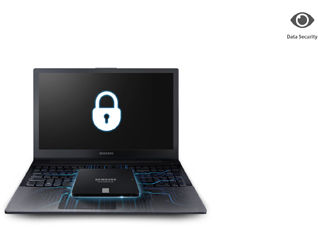 Secure Data Through Advanced AES 256 Encryption
You can trust the 750 EVO to keep your data safe with Samsung SED (Self-Encrypting Drive) technology. An AES 256-bit hardware-based full disk encryption engine secures data while maintaining high performance.
End-to-end Integration Solution
The 2.5″ form factor and 7 mm height of the 750 EVO is optimized to upgrade desktops and slim laptops, and includes software for simple installation and management. Samsung Data Migration software features robust custom cloning that ensures seamless migration, even if the source data is greater than the capacity of the SSD.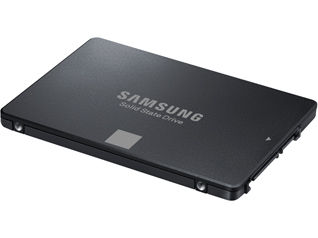 One-stop Install Navigator Software
Samsung Magician software simplifies SSD management, enabling you to maximize both the performance and the lifespan of the SSD. It also facilitates data security features, including Secure Erase.
Features and specifications are subject to change without prior notification
Type

Product Type

Solid State Drive

Interface

SATA 6Gb/s Interface, compatible with SATA 3Gb/s & SATA 1.5Gb/s interface

Application

Storage

Capacity

500GB* * Actual usable capacity may be less (due to formatting, partitioning, operating system, applications or otherwise)

Key Features

Sequential Read Speed

Up to 540 MB/s Sequential Read* * Performance may vary based on system hardware & configuration

Sequential Write Speed

Up to 520 MB/s Sequential Write* * Performance may vary based on system hardware & configuration

Random Read Speed

Random Read (4KB, QD32): Up to 98,000 IOPS Random Read* * Performance may vary based on system hardware & configuration Random Read (4KB, QD1): Up to 10,000 IOPS Random Read* * Performance may vary based on system hardware & configuration

Random Write Speed

Random Write (4KB, QD32): Up to 88,000 IOPS Random Write* * Performance may vary based on system hardware & configuration Random Write (4KB, QD1): Up to 40,000 IOPS Random Write* * Performance may vary based on system hardware & configuration

Memory Speed

Samsung Nand Flash Memory Samsung 512MB LPDDR3

Controller

Samsung MGX controller

NAND Flash

Samsung Nand Flash Memory

Trim Support

Yes (Requires OS Support)

AES Encryption

AES 256 bit Full Disk Encryption (FDE), TCG/Opal v2.0, IEEE1667 (Encrypted drive)

GC (Garbage Collection)

Yes

General

Power Consumption (W)

Active Read/Write (Average): 2.3W / 2.5W* * Actual power consumption may vary depending on system hardware & configuration

Reliability (MTBF)

1.5 million hrs Reliability (MTBF)

Environmental Specs

Operating Temperature

32 – 158

Operating Humidity

5% to 95%, non-condensing

Shock

Non-Operating: 1500G, duration 0.5m sec, 3 axis

Form Factor

Dimensions (W x D x H)

Product

3.94″ x 2.75″ x 0.27″

Weight