Cisco CBS110 Series
Cisco, one of the world's largest network equipment companies, has an entire series of CBS110 unmanaged switches that are designed for businesses with basic networking needs. They can be used to reduce network infrastructure costs in cases where no complex configuration is required. For example, in video surveillance networks, server management, thin clients and a large number of other similar devices deployed compactly on a single subnet.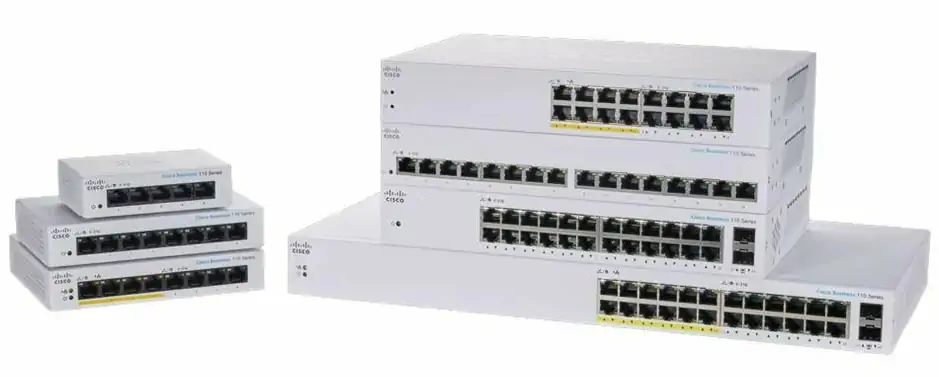 Cisco CBS110-16T Switch
One of the new models in this family is the CBS110-16T-EU in a metal case that can be mounted on a table or in a rack (1U, 19″). The device measures 279 × 170 × 44 mm and weighs 0.97 kg. The switch has a built-in power supply for ~110/220 V mains. Power consumption does not exceed 11.53 W. The lack of fans and support for 802.3az, which regulates power consumption according to network activity, reduces operating costs. Operating temperature range: 0 °C to 40 °C. MTBF (at 25 °C) of 2.685 million hours
Outstanding achievements
TheCisco CBS110-16T-EU has 16 RJ-45 ports (10/100/1000 Mbps) with a total switching speed of 32 Gbit/s. The traffic processing rate is 23.8 mpps (for 64-byte packets), the MAC-address table size is 8000, and the packet buffer size is 2 Mb. The switch has a number of additional features. It supports 802.1p to implement QoS, i.e., prioritization of traffic of delay-sensitive services. A loop detection tool is also available, and line diagnostic tools allow you to quickly find and resolve network cabling problems. In addition, the switch can also detect and drop "bad" packets to prevent them from propagating further down the network.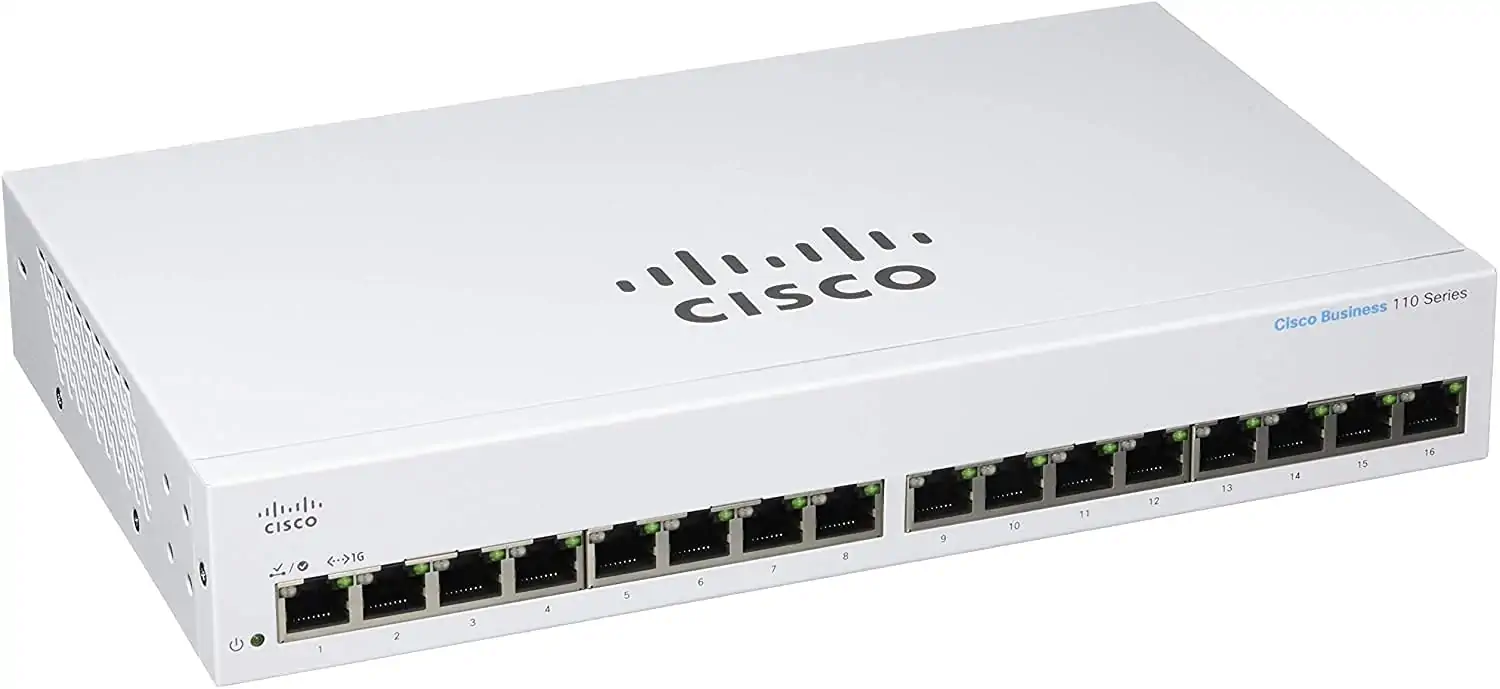 Reliability and simplicity
The CBS110-16T-EU is reliable, affordable and plug-and-forget, meaning it requires no configuration, software installation or special knowledge on the part of the user. The integrated controller automatically detects the type of devices being connected and selects the best mode for each port. This makes the switch the best choice for small businesses that don't have their own IT department.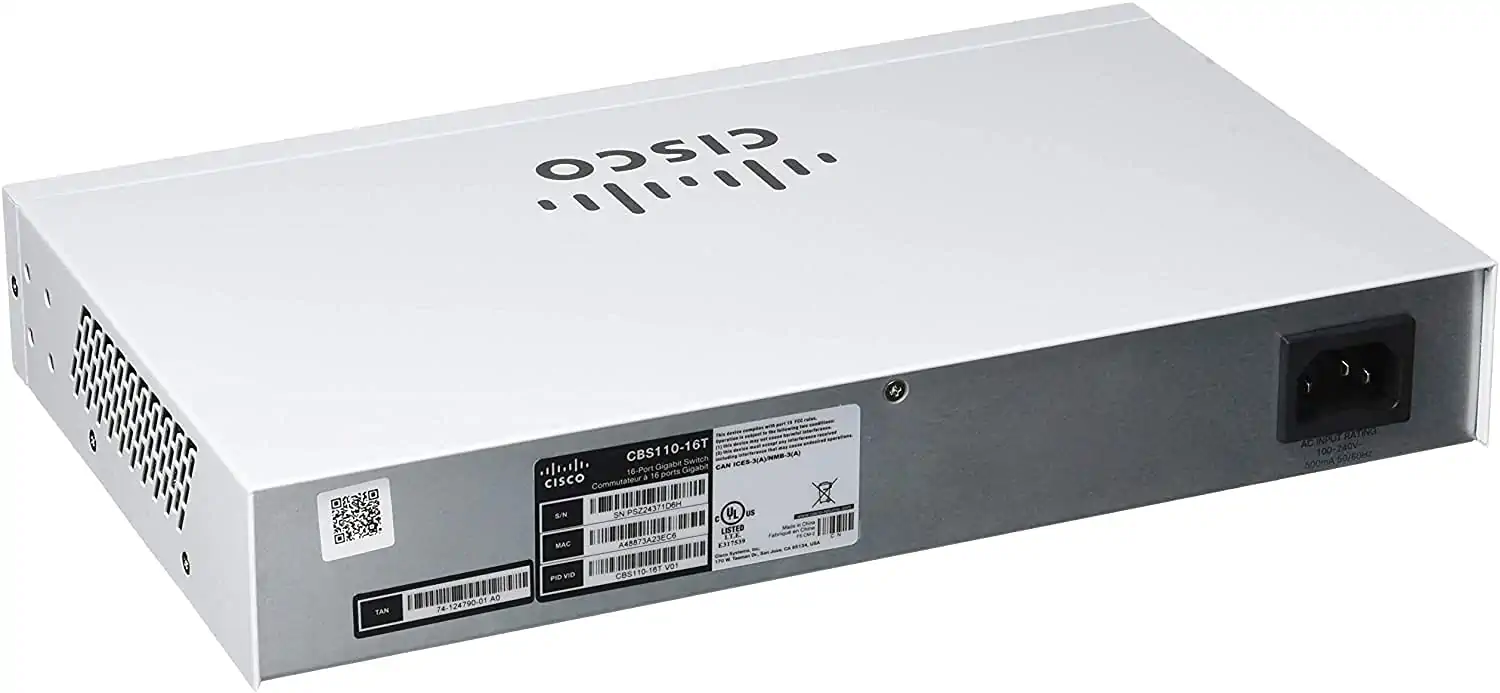 SPECIFICATION
Features / filters
LAN standard
Gigabit Ethernet 10/100/1000 Mb/s
Number of LAN ports
16x [10/100/1000M (RJ45)]
10G support
No
AC input frequency
50/60
AC input voltage
110 – 240
Auto MDI/MDI-X
Yes
Basic switching RJ-45 Ethernet ports quantity
16
Basic switching RJ-45 Ethernet ports type
Gigabit Ethernet (10/100/1000)
Built-in modem
None
Built-in processor
Yes
Cable types supported
Cat5e
Certification
UL (UL 60950), CSA (CSA 22.2), CE mark, FCC Part 15 (CFR 47) Class A, FCC Class B
Copper ethernet cabling technology
10BASE-T,100BASE-TX,1000BASE-T
Depth
170
Ethernet LAN data rates
10,100,1000
Flash memory
16
Flow control support
Yes
Form factor
1U
Forwarding rate
23.8
Full duplex
Yes
Gigabit Ethernet (copper) ports quantity
16
Half duplex
Yes
Harmonized System (HS) code
85176990
Head-of-line (HOL) blocking
Yes
Heat dissipation
39.34
Height
44
Internal memory
128
Jumbo frames
9216
Jumbo frames support
Yes
LED indicators
Yes
MAC address table
8192
Management
No
Mean time between failures (MTBF)
2685092
Networking standards
IEEE 802.1p,IEEE 802.3,IEEE 802.3ab,IEEE 802.3az,IEEE 802.3u,IEEE 802.3x
Number of power supply units
1
Number of queues
4
Operating relative humidity (H-H)
10 – 90
Operating temperature (T-T)
0 – 40
Power over Ethernet (PoE)
No
Power supply included
Yes
Processor frequency
400
Product colour
Grey
Quality of Service (QoS) support
Yes
Queue scheduling algorithms
Weighted Round Robin (WRR)
Quick start guide
Yes
Rack mount kit
Yes
Rack mounting
Yes
Redundant power supply (RPS) support
No
Storage relative humidity (H-H)
5 – 90
Storage temperature (T-T)
-20 – 70
Switch layer
L2
Switch type
Unmanaged
Switching capacity
32
Switching layer
2
Type of case
Rack (1U), Desktop,
Weight
970
Width
279
Basic general data
Manufacturer
Cisco
Model
CBS110-16T
Performance characteristics
Throughput in millions of packets per second (mpps) (64-byte packets)
23.8 mpps
Gigabit per second (Gbps) switching capacity
32 Gbps
General features
Blocking a Line Header (HOL)
Prevention of HOL blockage
MAC table
8K addresses
Jumbo frame
9216 bytes
Quality of Service (QoS)
802.1p priority-based, 4 hardware queues, priority queuing and weighted rotation (WRR)
Loop detection
Helps detect loops in the network to avoid broadcast storms
Cable diagnostics
Quickly identify and resolve network cable faults and/or short circuits
Media-dependent interface
Automatic media dependent interface (MDI) and MDI-X crossover
Standards
IEEE 802.3 10BASE-T Ethernet, IEEE 802.3u 100BASE-TX Fast Ethernet, IEEE 802.3ab 1000BASE-T Gigabit Ethernet, IEEE 802.3z Gigabit Ethernet, IEEE 802.3x Flow Control, 802.1p priority, Energy Efficient Ethernet, 802.3af, Power over Ethernet
Hardware features
Ports
16 10/100/1000 Gigabit Ethernet RJ45 ports
Power over Ethernet (PoE) 802.3af
Not supported
LEDs
Power, link/activity (cable diagnostics, loop detection), Gigabit, * PoE, * Max PoE,. * If present
Wiring type
Category 5e or better
Mounting options
Desk, wall or rack mountable
Physical security lock
Kensington lock slot
Flash
16 MB
CPU
400 MHz ARM
Processor memory
128 MB
Packet buffer
2 Mbit
Environmental features
Device dimensions (W x D x H)
279 x 170 x 44 mm (11 x 6.7 x 1.73 in)
Unit weight
0.97 kg (2.14 lb)
Power supply
110-240 VAC, 50-60 Hz, internal, universal
Power consumption (worst case)
110V=11,33W 220V=11,53W
Heat dissipation (BTU/hour)
39.34
Ecological (energy efficiency)
Supports IEEE 802.3az on all Gigabit Ethernet copper ports
Compliance/certifications
UL (UL 60950), CSA (CSA 22.2), CE Mark, FCC Part 15 (CFR 47) Class A, FCC Class B
Operating temperature
32° to 104°F (0° to 40°C)
Storage temperature
-4° to 158°F (-20° to 70°C)
Humidity during operation
10% to 90%, relative, non-condensing
Storage Humidity
5% to 90%, relative, non-condensing
Acoustic noise and mean time between failures (MTBF)
2,685,092 hours